Welcome to Sheila's Cattery
We are situated on the outskirts of Riogordo in the peaceful countryside and is easily accessible on the MA-3107 Benamargosa/Riogordo road between km 12 & 13.
The cattery is run by Sheila and overseen by Flossie and George, her faithful companions for almost 15 years, plus the newest additions to the family, Precious and Lulu. Sheila has always been passionate about cats and animal welfare and along with Karen and the rest of the team ensures that the quality of care given to your cat(s) is of the highest standard.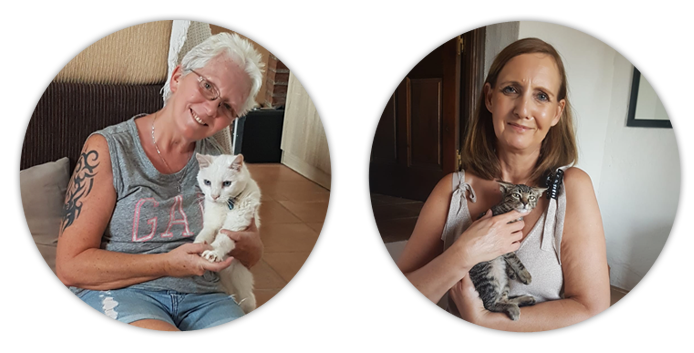 Cats are housed in their own chalets, and only those from the same family can board together. Each chalet includes a raised sleeping area where they have their beds, food and water, with a ladder leading down to their own run. In the winter months we provide heating pads and the summer months have fans and plenty of ventilation. All chalets have a litter tray and scratching post. If you wish to bring your cat's own personal items, this is most welcome.
We can also (with your permission) let your cat out on the main corridor for a chance to have a wander round and have a change of scenery. Cats do not go on the corridor with other cats.

Why choose Sheila's Cattery?
Apart from being extremely interested in cat health and welfare and having a passion and love of cats, here are just a few reasons why we believe you should trust us looking after your fur baby!
We cater for long term and short term stays.
We only look after cats!
Everything is included to keep your cat happy during his/her stay.
We administer medication to your cat free of charge.
Cats are also groomed regularly during their stay.*
We are caring and experienced in cat health and welfare
*In the interest of safety and hygiene, please provide your cat's brush or comb if you require them to be groomed during their stay.

Check your cat while you are away?
Feel free to call or email us to check on your cat. Obviously, if we need to contact you, we will do so.
If you wish for photos of your cat, this can be arranged and forwarded via WhatsApp or email.